Triple Flag: A Strong Finish To The Year (NYSE:TFPM)
While it was a solid year for precious metals royalty/streaming names, given that they managed to side-step the margin erosion of their producer peers, it was also a hectic year with significant consolidation. This included the acquisitions of Great Bear Royalties and Nomad, the failed takeover bid for Elemental Altus Royalties (OTCQX:ELEMF), and then the amalgamation of Elemental Royalties and Altus shortly after. However, perhaps the most transformational deal was Triple Flag's (NYSE:TFPM) offer to acquire budding royalty/streamer Maverix, one of the larger junior royalty companies with an exceptional development pipeline.
As discussed in a recent update, this deal was a smart move by Triple Flag, helping to improve its trading liquidity, leading to greater diversification (29 producing assets, 229 total assets), and adding key development projects to Triple Flag's pipeline. Notably, it also adds some nice organic growth at key assets like Karora's (OTCQX:KRRGF) Beta Hunt Mine, where the company is doubling mine production (second decline). Given this upgrade to the portfolio that has made TFPM more attractive from an investment standpoint, I would view any pullbacks below US$11.80 as buying opportunities.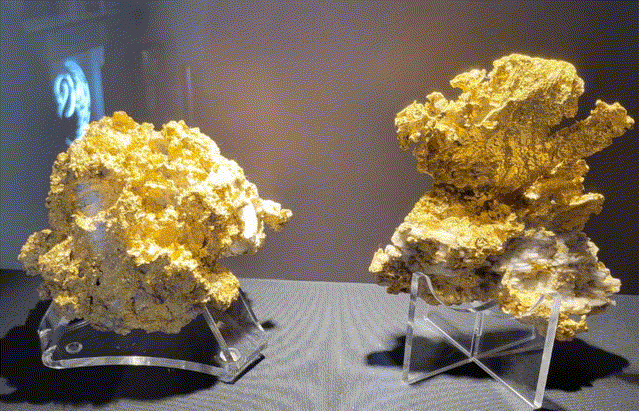 All figures are in United States Dollars unless otherwise noted.
Q4 & FY2022 Results
Triple Flag Precious Metals released its Q4 and FY2022 results last month, reporting quarterly sales of ~25,400 gold-equivalent ounces [GEOs] and annual sales of ~84,600 GEOs. This represented a record for the company, with the Q4 performance helped by a strong finish to the year from Fosterville (higher grades), operated by the #3 gold producer globally, Agnico Eagle (AEM). Unfortunately, annual gold-equivalent ounce [GEO] sales came in shy of estimates of 90,000 to 95,000 GEOs. This was impacted by operational delays such as rail/shipping delays at Northparkes due to severe weather in NSW and increased time for quotation period settlements at Cerro Lindo concentrates.

Although the guidance miss was a minor disappointment, this had little to do with the health of its partners' operations. Triple Flag is positioned to blow past these estimates in 2023 after upgrading its portfolio following the Maverix acquisition. In fact, FY2023 attributable production should come in above 125,000 GEOs, translating to ~46% growth year-over-year and a significant increase in cash flow generation. Combined with available liquidity of ~$600 million, this sharp increase in cash flow will place Triple Flag in the enviable position of being able to transact on large deals like the majors without having to dilute shareholders such as what we've seen from juniors like Metalla (MTA) and Gold Royalty Corp. (GROY) when they occasionally punch above their weight to do small to mid-sized deals.

Finally, looking at revenue, Triple Flag reported quarterly revenue of $43.9 million in Q4 2022, a nearly 20% increase vs. the year-ago period ($37.0 million). This was related to increased sales volumes at ATO, and its Other category, offset by a lower average realized gold price and lower sales from a couple of its larger assets. On a full-year basis, Triple Flag reported a 1% increase in revenue ($151.9 million vs. $150.4 million) despite the weaker metals prices but is on track to enjoy 50% plus revenue growth in FY2023 based on estimated revenue of $230+ million. Let's take a look at recent developments:
Recent Portfolio Additions
Regarding recent portfolio additions, Triple Flag completed two new deals just before year-end, acquiring a gross revenue return [GRR] and a gold and silver stream on the Prieska copper-zinc mine with Orion Minerals in South Africa. The stream provides Triple Flag with 84% of payable gold and 84% of payable silver until 94,300 ounces of gold and ~5.71 million ounces of silver are delivered (stream drops to 50% thereafter). Orion Minerals' Prieska copper-zinc nine is a high-grade past-producing asset with a mineral reserve grade of 1.1% copper and 3.2% zinc, with a planned 11-year mine life producing ~220,000 tonnes of copper and ~680,000 tonnes of zinc in concentrate, respectively.
In addition to the Prieska deal, Triple Flag announced that it would acquire up to 2.5% NSR royalty on the Thunder Bay Project held by Clean Air Metals (OTCQB:CLRMF). This is a platinum, palladium, copper, and nickel project near Thunder Bay in Ontario, Canada, where a Feasibility Study is planned for this year. The recent PEA on the project highlighted the potential for a 10-year mine life with an underground mining rate of ~4,400 tonnes per day, a processing rate of ~3,600 tonnes per day, and a floatation circuit to produce copper-PGE concentrate and bulk concentrate. Total revenue over the mine life is estimated at ~$1.7 billion, and capex is modest at ~$275 million, though with inflationary pressures, this figure could be closer to $320 million.
Overall, I see these two deals as solid, with a stream and GRR added on an impressive asset (albeit in a less favorable jurisdiction) with Prieska and a decent-sized royalty on a PGE asset in a Tier-1 jurisdiction with the Thunder Bay Project. Considering the total combined consideration of less than $100 million, these look like nice additions to the portfolio at relatively low risk.
Exploration Success Across The Royalty Portfolio
Moving over to recent developments on Triple Flag's producing and development-stage royalties, two key assets worth that continue to see considerable attention are Hope Bay (1.0% NSR royalty) and Fosterville (2.0% NSR royalty). For those unfamiliar, Agnico Eagle (AEM) post-Kirkland Lake merger took the throne for the most aggressive driller (based on non-ferrous mineral exploration budget ranks) from Rio Tinto (RIO) when it came to its 2022 exploration budget. This was evidenced by an exploration budget of ~$324 million, subsequently increasing to ~$354 million, with 80% of that incremental budget directed to Hope Bay.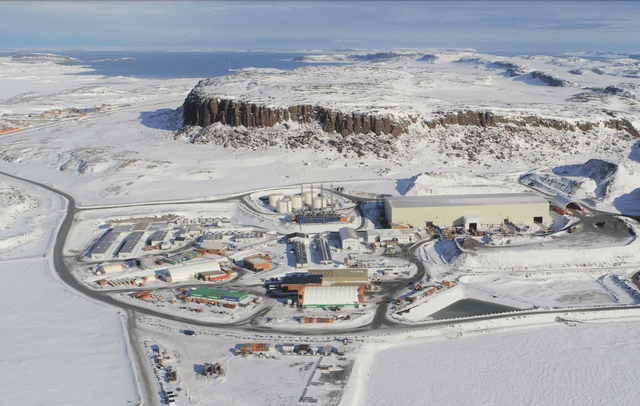 These two assets benefit from a significant portion of this budget, with ~$110 million combined (Hope Bay + Fosterville) of Agnico's total budget being allocated to these two assets, consisting of drilling & developing new exploration drifts. Previously, I was lukewarm on Triple Flag because it's clear that Fosterville has seen its best days behind it with declining bonanza-grade reserves (18+ grams per tonne gold) after three years of 500,000+ ounce per annum production levels (2019, 2020, 2021). Given that this was a top-3 royalty asset for Triple Flag, it would be a major drag on operations after consistently delivering 10,000+ GEOs per annum on an attributable basis.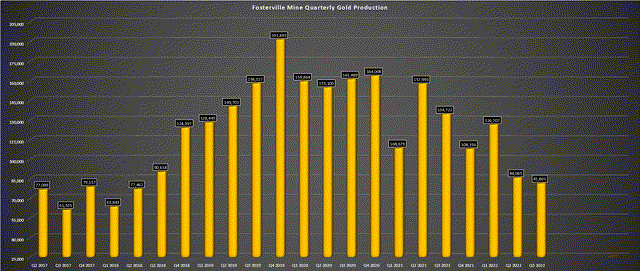 As shown in the below table, Fosterville reserves had shrunk to ~5.6 million tonnes at 10.33 grams per tonne of gold (plus ~1.05 million tonnes at 4.67 grams per tonne of gold), translating to just ~2.02 million ounces as of year-end 2021. Given that 2022 production was forecasted at ~770,000 tonnes at 16.6 grams per tonne of gold, high-grade reserves are set to decline even further, and I would expect only moderate reserve replacement this year and at lower grades. This isn't a huge deal for the asset and isn't a knock against its operators; it's simply not easy to consistently delineate 2/3 ounce per tonne material, even if you are poking holes into a world-class asset.
Although Fosterville is backed up by measured & indicated resources of ~9.0 million tonnes at ~7.0 grams per tonne of gold and ~9.0 million tonnes of inferred resources at ~5.70 grams per tonne of gold, these grades are well below reserves grades. The result is that Agnico Eagle expects FY2022 production to come in near 400,000 ounces but slide to 375,000 ounces this year and just 248,000 ounces in FY2024. In Triple Flag's case, this would result in attributable production from Fosterville plunging from ~12,300 ounces in 2020 to just ~5,000 ounces in FY2024, and no indication yet that 2025 will be any better as the team continues to chew through the remaining 1/2 ounce per tonne material.

However, after 18 months of aggressive drilling by Kirkland Lake Gold/Agnico, we're finally starting to see some solid intercepts. Meanwhile, following the Maverix merger, we've seen a significant increase in diversification for Triple Flag, with Beta Hunt helping to replace some of the lower production from Fosterville and multiple other assets in the wings to help boost production (Northparkes E22, South Railroad, Eskay Creek, Kone, McCoy Cove, North Bullfrog). Finally, with Fosterville now in the hands of the most aggressive drill sector-wide, I am cautiously optimistic this team can replace reserves at 10.0+ grams per tonne and potentially make a new discovery.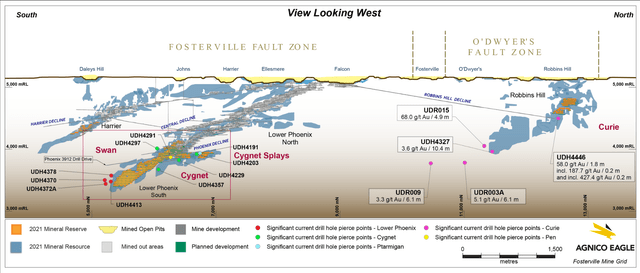 Looking at recent drilling above, Agnico noted that its decline into the Robbins Hill orebody (separate from the high-grade reserve base at Lower Phoenix/Harrier) and infill/extensional drilling is now underway. The company noted that it hit a new mineralized structure named the Hoffman Fault in the hangingwall of the Curie Fault, with an exceptional intercept of 1.8 meters at 58.0 grams per tonne of gold. As Kirkland Lake Gold's Senior VP of Exploration Eric Kallio stated in his final Conference Call at Kirkland Lake before the merger, grades were improving at depth at Robbins Hill (similar to what occurred at the Swan Zone), and this appears to be the case under Agnico as well with more solid intercepts near the 1,000-meter level (4.9 meters at 68.0 grams per tonne gold). One encouraging nugget stated by Agnico Eagle in its Q3 Exploration Update was as follows:
"The very high gold grades intersected in hole UDR015 down-plunge of the Robbins Hill mineral resources are due to the presence of visible gold in quartz vein mineralization — a style of mineralization similar to what is seen in the Swan Zone."
Moving over to current mining areas, Agnico Eagle released multiple high-grade intersections in its Q3 2022 results, hitting 1.4 meters at 226 grams per tonne of gold south of existing resource blocks in an 80-meter step-out hole and 1.1 meters at 365.5 grams per tonne of gold. These drill highlights are a stone's throw from current resources and reserves. They are now attributed to the Cardinal Fault, a hanging wall splay of Lower Phoenix mineralization (70 to 130 meters laterally south from reserves). Other encouraging intercepts that weren't quite as high-grade included 10.6 meters at 14.6 grams per tonne of gold and 8.0 meters at 31.5 grams per tonne of gold, which are still well above current reserve grades.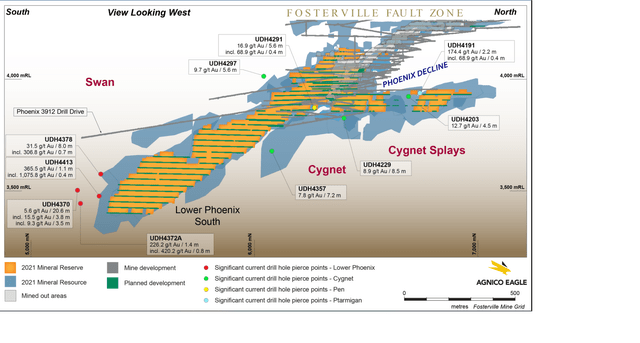 Obviously, these are not the blockbuster results that Kirkland Lake Gold was busy reporting in 2017/2018 that helped to significantly increase high-grade reserves, such as 7.45 meters at 289 grams per tonne of gold, 6.4 meters at 598 grams per tonne of gold, and 8.2 meters at 991 grams per tonne of gold. Still, the goal here for Agnico appears to be to build on reserves and allow Fosterville to be a consistent 250,000 to 300,000-ounce producer from 2026 forward at industry-leading costs. So, while I do expect 2024 and 2025 production to drop off materially and average less than 260,000 ounces per annum (which will impact Triple Flag's cash flow), the recent exploration success is encouraging and suggests this mine likely has at least another decade ahead of it at a more modest production profile.
Of course, the wild card is a major discovery by Agnico Eagle, which I wouldn't rule out, and that could easily push production back to ~400,000 ounces per annum if the company were able to spike grades with some 20+ gram per tonne material on top of what looks to be a new range of 8-11 grams per tonne head grades post-2024.
Moving over to Agnico's Hope Bay Project in Nunavut, the company was so pleased with its exploration success that it increased its 2022 exploration budget from ~$32 million to $50+ million mid-way through the year. As of Q3 2022, the company continues to focus on testing extensions to mineralization both along strike and at depth below the dike, aiming to expand the BTD Extension, BTD Connector, and BTD Central zones. For those unfamiliar with Hope Bay, Agnico Eagle halted production in Q1 2022 at the asset to focus on exploration and better understand the opportunity here, with a goal of restarting operations from a stronger base. The primary goal is a ~4,000 tonne per day operation producing 250,000 to 300,000 ounces per annum, pushing Agnico's Nunavut production to 1.0+ million ounces per annum (Meadowbank, Meliadine, and Hope Bay).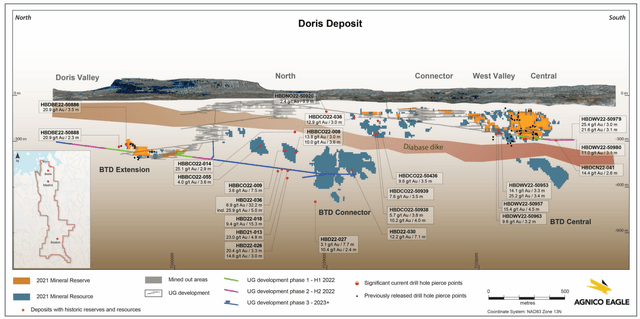 Looking at the above image of the primary deposit (Doris), recent drilling suggests the potential to increase Doris resources/reserves at depth both in the BTD Extension/Connector zones and in the West Valley Zone. Highlight intercepts include 2.3 meters at 20.9 grams per tonne of gold just north of existing reserve blocks (drill hole HBDBE-22-50888) and 3.5 meters at 20.9 meters along the limit of existing reserves (drill hole HBDBE-22-50886). Additionally, Agnico Eagle intersected 7.7 meters at 3.1 grams per tonne of gold and 2.4 meters at 10.4 grams per tonne of gold in drill hole HBD-22-027, which is one of the deepest intercepts drilled to date, well below resource blocks in the BTD Connector Zone.
Moving north of HBD-22-027 in the BTD Connector Zone, Agnico Eagle hit a thick intercept of 32.2 meters at 6.9 grams per tonne of gold, and separate holes intersected 15.3 meters at 9.4 grams per tonne of gold and 4.8 meters at 23.0 grams per tonne of gold. These intercepts are well outside current resource blocks, suggesting incremental resource/reserve upside at depth below the East Limb and on strike from the West Limb. Finally, Agnico extended the West Valley Zone 77 meters south with a solid intercept of 2.6 meters at 14.4 grams per tonne of gold and intersected 3.0 meters at 25.4 grams per tonne of gold, well above existing reserve grades.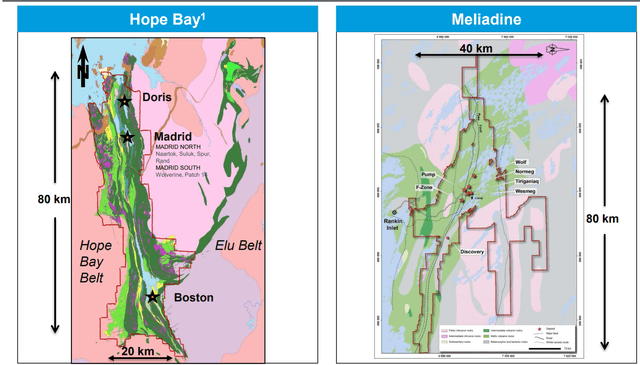 From a bigger-picture standpoint, Agnico has spent limited capital at the nearby Madrid deposit, and Boston(opposite end of the gold belt) has still seen limited drilling, with these being two other high-grade ore bodies where Triple Flag benefits from royalty coverage. Agnico noted that Boston will receive some attention in 2023 "while larger production scenarios are being evaluated." Given that this is a massive 80-kilometer-long greenstone belt with three high-grade ore bodies identified to date, I would not rule out the potential for a mining 'complex' on Hope Bay ground capable of producing 400,000+ ounces per annum.
For now, the exploration success is quite encouraging for Triple Flag's 1.0% NSR royalty, with Triple Flag likely to see a 2,600+ GEO per annum contribution from 2026-2035 (~$5.0 million per annum), with long-term upside to this figure. Plus, even if we don't see this eventually become a ~400,000-ounce operation like Meadowbank and Meliadine are currently, I would be shocked if production didn't continue well into the 2040s with a similar model to what Agnico is applying at Meadowbank, which produced gold from 2010 to 2019 before mining moved to a new discovery, Amaruq, which feeds the Meadowbank plant.
To summarize, although Fosterville's best days appear to be behind it, the asset was a nice contributor for Triple Flag, which helped it generate cash flow to beef up its portfolio. Meanwhile, although Hope Bay is not yet in production, this will likely be a solid contributor for Triple Flag long-term, with production likely to restart by year-end 2025. Most importantly, though, are two key exploration assets for a top-3 gold producer (and the most aggressive driller sector-wide). Hence, while I might worry about their future (one offline, one with a short mine life) in the wrong hands, I am quite optimistic about their future under Agnico Eagle, which has a strong history of optimization and reserve replacement (LaRonde, Goldex).
Valuation
Based on ~204 million fully-diluted shares and a share price of US$14.05, Triple Flag trades at a market cap of ~$2.87 billion and an enterprise value of ~$2.83 billion. This is a reasonable valuation for a company with an estimated net asset value of ~$2.40 billion, with Triple Flag trading at just ~1.18x P/NAV. Although this is a premium to Sandstorm Gold Royalties (SAND) that also has a path to ~140,000+ GEOs per annum by 2026, one could argue that Triple Flag has stronger partners on balance, it has a better jurisdictional profile (over 60% of NAV from Australia), it has a better pipeline following the Maverix deal, and it has improved its one weak spot, diversification, even if Sandstorm still ranks higher from a diversification standpoint.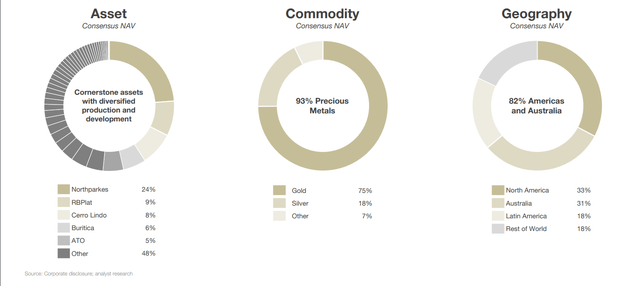 Based on what I believe to be a fair multiple for Triple Flag of 1.50x P/NAV, I see a fair value for the stock of ~$3.58 billion, translating to a share price of US$17.55. This points to a 25% upside from current levels, which is a decent upside case for a royalty/streaming company, given that these stocks are lower-risk than most producers and are typically less volatile, meaning they can smooth portfolio returns vs. a producer/developer focus in one's portfolio. In comparison, I see limited upside for Franco-Nevada (FNV) even after its recent pullback, especially with the short-term uncertainty surrounding its Cobre Panama asset, which is a significant cash-flow generator for the company (100,000+ GEOs per annum from the Cobre Panama stream).
So, why am I not long the stock?
There's no disputing that Triple Flag has continued to execute successfully and has a very attractive pure-play royalty/streaming model with a major upgrade to its portfolio following the Maverix acquisition (improved diversification, enhanced pipeline). However, I continue to see more attractively priced royalty/streamers elsewhere in the sector, and my goal is to play defense just as much as offense, and I always ensure that I have limited downside when starting new positions. In addition, I want a minimum 33% discount to fair value when investing in mid-cap names, and after applying this to Triple Flag, this doesn't offer enough margin of safety just yet (low-risk buy zone: US$11.80).
Obviously, there's no guarantee that the stock will pull back this far, and Triple Flag has continued to outperform its peers, which is likely partially due to the major upgrade we've seen in the portfolio following the Maverix deal. Still, I prefer to buy only when there's an adequate margin of safety available or pass, and this is especially true when optimism in the sector has spiked, and miners are more prone to corrections. This is the case currently, and as I shared recently a proprietary sentiment indicator I've built, the prevailing sentiment was overheated and hotter than April 2022 levels despite the GDX sitting at lower levels (Gold Miners Index shown in yellow, sentiment shown in light blue).

Summary
Triple Flag Precious Metals had another solid year in 2022 and is entering 2023 with ~$600 million in available liquidity, giving it ample room to add to its already enviable royalty/streaming portfolio, assuming it can find attractive deals. The company also benefits from much higher trading liquidity which makes the stock more attractive to prospective investors, and I would not be surprised to see the stock outperform its larger royalty/streaming peers, given its solid growth profile and reasonable valuation. That said, I prefer to be pickier in periods when we've just seen elevated optimism, and I don't see enough margin of safety in TFPM just yet. So, while I would get interested below US$11.80, I remain neutral on TFPM short-term.