Brookfield Real Assets Income Fund: Get Real Assets Into Your Portfolio (NYSE:RA)
In his 2022 year-end coverage of major asset classes, fellow SA contributor James Picerno discussed how Commodities were far and away the best asset class to hold in 2022, while real estate, in the form of US REITs as illustrated by the fund Vanguard Real Estate Index Fund (VNQ), was the absolute worst. The chart that he included clearly visualizes the difference in performance between the two.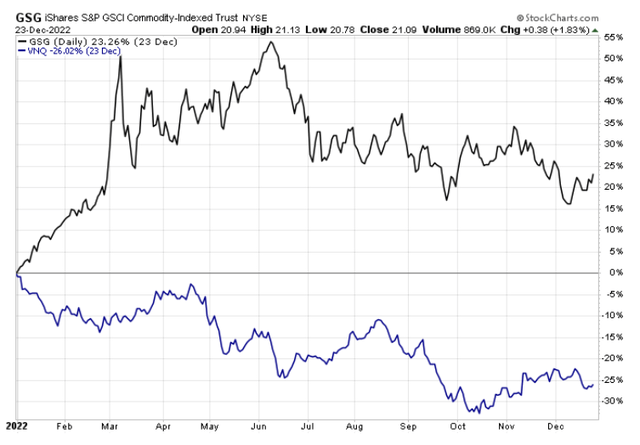 In a December 2022 research report from Goldman Sachs, the outlook for 2023 suggests another good year for commodities, which may still be in the early stages of a super-cycle. With inflation peaking in late 2022 and starting to show signs of slowing in the US, and with China reopening its economy, demand for commodities is likely to stay strong. However, as supply chains begin to heal from the post-pandemic surge in demand, prices are likely to moderate and lead to further disinflation.
Commodities are one example of real assets, and although this trend towards disinflation is having a moderating effect on the prices of many commodities, real assets overall tend to hold their value even as prices fluctuate.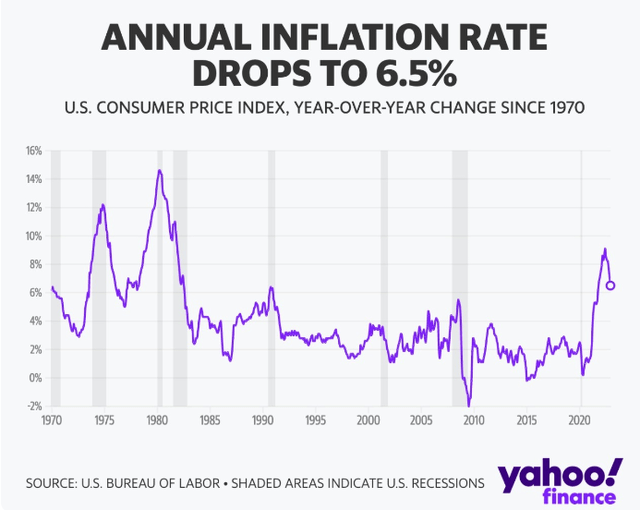 Real assets, including real estate/land, energy and other infrastructure, commodities, natural resources, metals and minerals such as Lithium and Cobalt (to meet rising EV demand), represent solid investments during slowing economic growth due to their intrinsic worth and relatively low correlation to financial assets such as stocks and bonds.
In terms of industry sectors, the standout equity sector in 2022 was Energy (XLE) – a commodity. Communications (XLC) was the worst sector over the past year but has been one of the best performing sectors YTD. Energy is starting to look overvalued while Communications and Real Estate are looking undervalued. So far in 2023, there appears to be a rotation from value back to growth, or risk-on asset classes, essentially reversing the trend from the past year, although it is still too soon to know what will happen over the remainder of the year.

With continuing high inflation (although coming down), interest rates likely still on the rise and ongoing global investments in renewable energy, industrial and healthcare infrastructure, mining/metals extraction, and energy and transportation infrastructure, the trends are clearly still in favor of commodities and real assets. Inflation is not likely to return to 2% within the next year and that is still the goal of the Fed when it comes to deciding when to stop raising the base rate:
The Committee seeks to achieve maximum employment and inflation at the rate of 2 percent over the longer run. In support of these goals, the Committee decided to raise the target range for the federal funds rate to 4-1/2 to 4-3/4 percent. The Committee anticipates that ongoing increases in the target range will be appropriate in order to attain a stance of monetary policy that is sufficiently restrictive to return inflation to 2 percent over time.
Real assets offer inflation protection and can help grow cash flow. In a recent white paper from Brookfield, attractive entry points are in place for many real assets in 2023 due to 5 ongoing themes:
1. Decarbonization
2. Deglobalization
3. Digitalization
4. Demand for Quality
5. Debt is now attractive
Decarbonization and deglobalization go hand in hand in some sectors such as energy and infrastructure investments. With increasing emphasis on carbon capture, and natural gas and renewable energy investments globally, yet more export restrictions due to the Russian war in Ukraine and saber-rattling from China, North Korea and other developing nations, the trend is increasingly toward deglobalization.
For example, in the USA the impact of the Inflation Reduction Act is to start spending some of the $370 billion allocated to:
"… modernize the electric grid, build a nationwide network of electric vehicle chargers, strengthen the battery supply chain, expand public transit and passenger rail, invest in new clean energy and emissions reduction technologies, improve resilience in physical and natural systems, and clean up legacy pollution in communities across the country."
In addition to moderating inflation and the reopening of China's economy, gas storage levels in Europe have remained viable due to the unusually warm winter they are experiencing, which has kept gas prices down. However, any sort of pricing pressure that could arise from an extended period of cold weather, or some additional supply shock given already existing inflationary pressures and rising interest rates, could send the European economies into deeper recession.
Fixed income debt is also looking very attractive due in part to the selloff of bonds in 2022. According to PIMCO, bonds are back and fixed income in 2023 is offering some of the best potential returns in many years.
Uncertainty and volatility will remain in 2023 – but the market reset is likely complete, and fixed income returns have become much more compelling.
In my view of the world in 2023, a fund that invests in real assets is one worthy of strong consideration. One such fund that offers a combination of equities and fixed income debt in real assets and attempts to provide current income along with some capital appreciation is Brookfield Real Assets Income Fund (NYSE:RA). RA offers a steady monthly distribution that has not changed since the fund's inception (now yielding over 13.5% annually). I consider RA a Buy below $18 and when the premium is under 10% (currently the fund trades at a premium of 11.7%).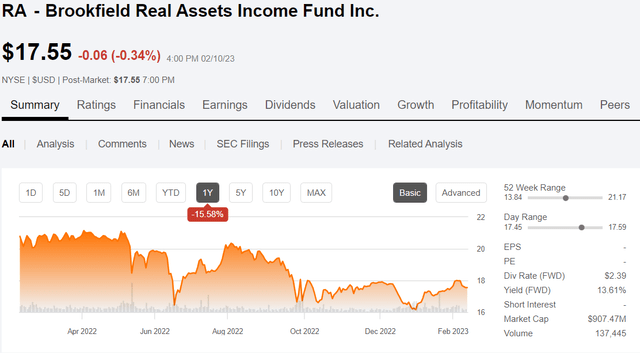 RA – The Fund
From the fund's website, a high level of total return is the fund's objective, to be obtained from high current income and secondarily from capital appreciation. The fund offers an attractive entry point for long-term investors who are willing to accept some risk to reap the rewards of a compelling total return going forward, especially as the investments in real assets begin to pay off over the next several years. The fund has risen to a higher-than-average premium as of February 10 and currently trades at a market price of 11.7% above NAV while the average premium over the past year has been about 10%.

The fund invests in real assets that are long-lived, have tangible value, recurring cash flows, and typically have high barriers to entry as shown in this slide from the Q422 earnings report webcast.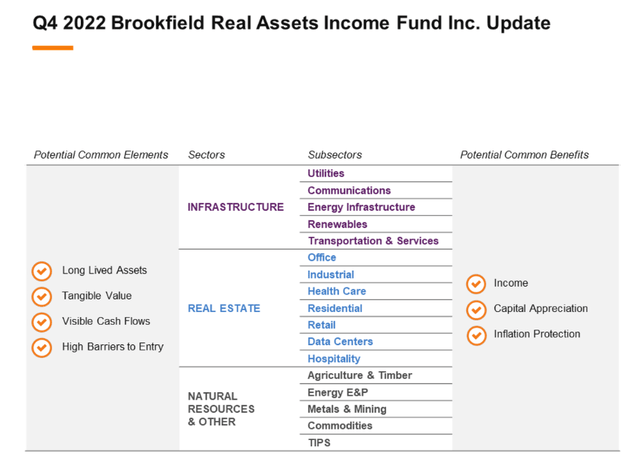 Normally, fixed Income represents about 60% to 65% of the total portfolio value, with about 35% to 40% in equities. The current mix is closer to 75% fixed income and about 25% in equities due to the increasing opportunities that have recently become available in high yield fixed income and securitized credit.
As of December 31, 2022, the fund had about $868 million in AUM with over 500 individual holdings. The average duration of the holdings is about 2 years. The following snapshot of portfolio statistics is from the fund's fact sheet.

Fund Holdings
Real assets as defined by Brookfield for the RA fund include those in Infrastructure, Real Estate, and Natural Resources & Other such as TIPS, as shown in the slide above from the Q422 earnings webcast. The portfolio composition as of Q422 is now roughly 75% fixed income and 22% equities. Leverage was also reduced during the year from about 28% at the start of the year to 26% by year end.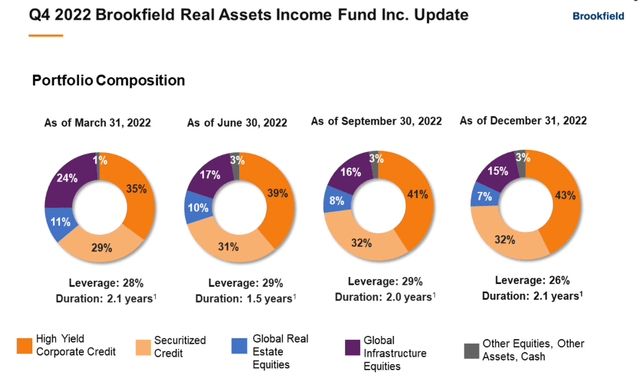 The breakdown of assets by sector is shown in the fund fact sheet as of December 31. Note that real estate equity is a small piece of the pie, while fixed income securities in real estate represent nearly half of the fixed income holdings.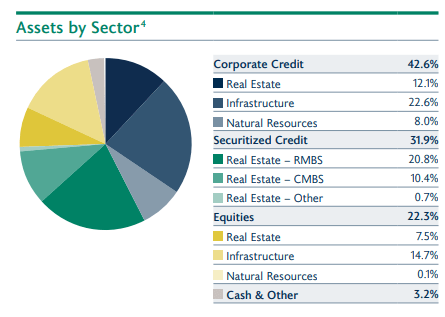 Equities generally performed poorly for most of 2022, however, in the fourth quarter, global equities began to recover, and real estate and infrastructure equities had very good Q4 performance as shown in this snippet from the Q422 webcast. Fixed income also had poor performance in 2022 and Q4 was no different with credit spreads tightening slightly but still impacted overall by rising base interest rates.

Fixed Income Positioning
There was an increasing allocation to high yield corporate credit and securitized credit and a somewhat diminished allocation to global infrastructure in 2022 due to changes in macroeconomic conditions. The market for real estate and global infrastructure was hindered by the effects of the war in Ukraine and rising inflation, along with higher interest rates from central banks. Opportunities to shift into more high yield credit and securitized credit resulted in a shift in the portfolio composition, according to fund managers on the Q422 webcast replay, available on the fund's website.
Corporate credit started to see improvement in credit spreads in the third quarter, particularly in lower rated credit (CCC and below). Fixed income overall struggled in 2022 but improved somewhat in Q4 across all credit ratings, as illustrated in this slide.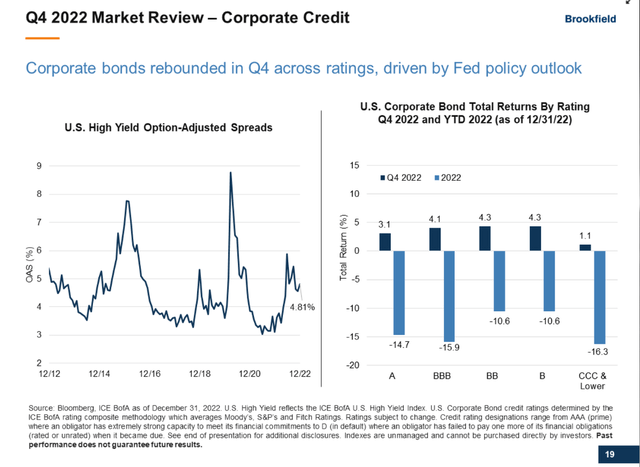 According to fund managers on the Q422 webcast, real asset, corporate high yield credit currently has some of the highest credit quality that they have seen in years. Securitized Credit held in the fund portfolio is composed of roughly 70% RMBS and 30% CMBS. The majority is floating rate, single borrower. The housing market is facing challenges, but the fund managers are not expecting meaningfully high defaults. Most borrowers are locked in at 3% rates, so pain is more on the brokerage and homebuilder side, not the borrower wide. As older loans/bonds roll off the fund managers are looking to invest in wider spread, new issue opportunities to take advantage of increasing rates.
Fund Performance
Borrowing costs for leverage have increased due to SOFR rates, from below 1.9% in Q122 to 4.5% in Q422. Assets have an opportunity to realize higher yields but borrowing costs have also increased. This led to a degradation in fund performance in 2022 and has resulted in some deleveraging in Q4 to reduce the impacts of higher borrowing costs. The Treasury yield curve is flattening, which is not a positive trend for the fund as it reduces their ability to benefit from rising rates when borrowing costs are rising faster. This trend is likely to continue in the first half of 2023 until interest rates level off.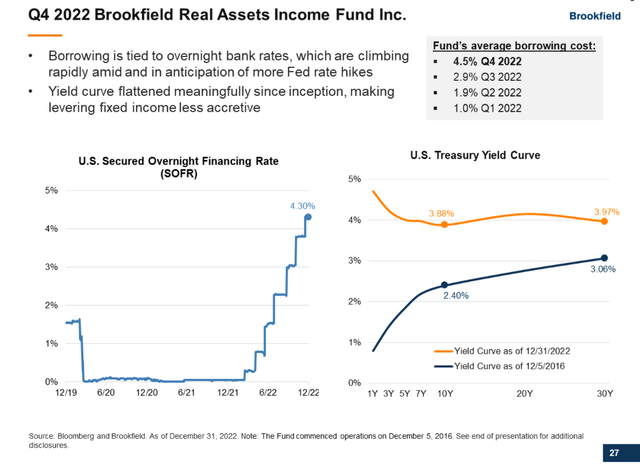 Distribution History and Coverage
There are several ways that the fund looks at distribution coverage. Distribution coverage based on NII has averaged 47.5% since inception, but in the past one year, YTD, and Quarter to date (as of December 31) NII coverage was only around 32-33%. The amount characterized as ROC (Return of Capital) is another view, and the percentage of ROC decreased in Q4 relative to historical numbers, from about 51% to 33% in Q4 or 34% YTD. Coverage based on NAV total return has averaged 36% since inception but has been negative for the 1-year, and YTD periods, but positive in Q422. The NAV coverage improved from Q3 to Q4 and this is a positive trend for the fund going into 2023.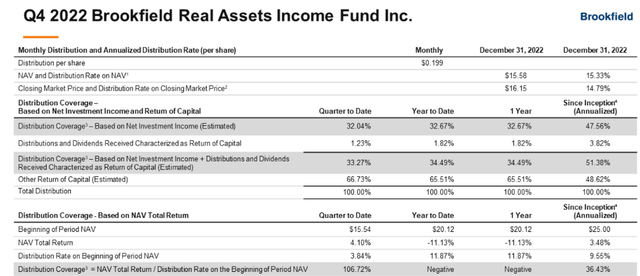 On January 5, 2023, the fund announced continued inline distributions of $0.1990 monthly for January through March 2023. This fact that NAV is improving, and distribution coverage is as well, explains why the distribution was maintained when many feared it would be cut. As you can see from the dividend history of the fund since its inception in 2016, the monthly distribution has never been cut and has held steady at the same amount since its inception.

Also, as mentioned above, the fixed income portion of the portfolio is well positioned with fund managers taking advantage of low-priced leveraged loans and cheap securitized credit thanks to the selloff of bonds and other fixed income debt in 2022. For example, as older assets mature and roll off the books, new investments at higher yields help to improve asset coverage and increase future spreads.
Comparison to Peer Funds
The hybrid allocation in real assets in a CEF is not totally unique to RA. There are at least two other funds that I am aware of that have similar strategies. Those two are Virtus Total Return Fund (ZTR) and Nuveen Real Asset Income & Growth Fund (JRI). Looking at a six-year period, from 2017 through the end of 2022, RA appears to have the best performance in terms of both total return and income generated with dividends reinvested, according to Portfolio Visualizer.

This slide shows the annual income generated from holding each fund with dividends reinvested monthly.

For RA, the annual income generated in year 6 was nearly $2,000 on an initial investment of $10,000 in 2017. This clearly demonstrates how the income compounding effect can work in your favor, especially if you can reinvest all or a portion of the monthly distributions received from your high yield income funds like RA.
Conclusions and Recommendation
I agree with most of what is stated in the Brookfield white paper that I referenced above, and they do a nice job of summarizing the current state of the world in 2023 and how to effectively position your portfolio with a real asset allocation, which in my case is approaching 7% of my overall income portfolio.
Some themes that they reference which could influence investments in real assets include continued elevated volatility as financial conditions tighten. Defensive positioning is suggested with overweight positions in real asset debt and underweight equity exposure. Bond yields offer significantly more attractive risk-adjusted returns after the selloff of bonds in 2022. A dedicated allocation to real asset debt given the uncertainty around global growth could potentially enhance the fixed income side of portfolios, and this is reflected in the recent adjustments to the portfolio composition of RA.
Within infrastructure, we are most constructive on renewables and energy midstream equities, which we believe could benefit from the energy transition toward renewable power and the global push for energy security. Although real estate valuations appear attractive, we believe slowing economic growth may pressure real estate equities further. We hold no direct exposure to commodities. While near-term supply/demand technicals may support energy commodities, slowing economic growth remains a headwind.
This view on real asset allocation and positioning concisely summarizes what I heard on the Q422 webcast from the RA fund managers, who stressed an increased emphasis on fixed income with attractive opportunities in that asset class, while global equities are still likely to offer some upside potential but not as much as fixed income and with a higher degree of risk. The RA fund appears to be constructed to take advantage of the opportunities to generate high yields, mostly from the fixed income side of the house, while still offering some potential for capital appreciation with the equity portion.
I am long RA in my No Guts No Glory Income Compounder portfolio and it now represents my largest individual holding. I also hold ZTR, although a slightly smaller position, however, the two of them combined represent about 7% of my total income portfolio by market value. I believe that real assets are the place to be in 2023 and RA is the fund to hold those investments to realize maximum total return over the next five to ten years.